Tissamaharama cradle of Ruhuna's ancient civilisation – By Mahil Wijesinghe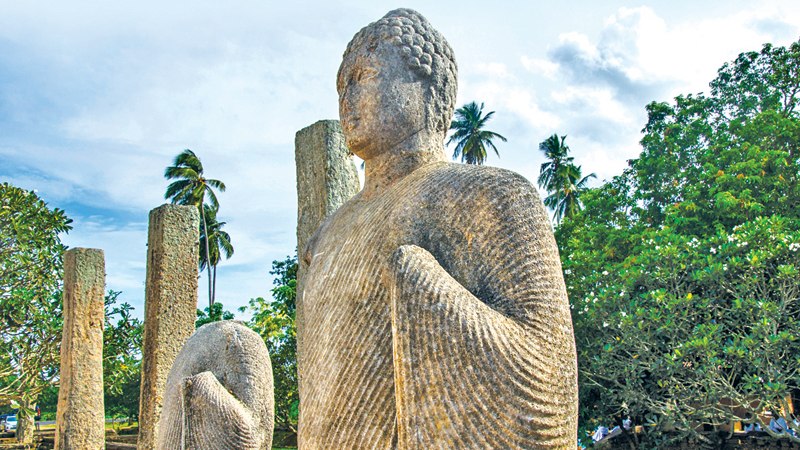 After passing through Lunugamvehera and the thick residential area, the Wiravila tank is seen on the road to Tissamaharama. The Mattala Mahinda Rajapaksa International Airport has given the area a modern face-lift. The Wirawila tank nestles amid the mountainous profiles of the sacred peaks of Kataragama. On either side of the highway, stretch large tracts of paddy fields watered by the Lunugamvehera tank.
The next destination of great historical and cultural heritage is Tissamaharama – the cradle of Ruhunu Rata civilisation in the deep South where kings ruled. This ancient kingdom of Magama was founded by King Mahanaga of the 3rd century BC after the famous or infamous mango fruit episode, as related in the chronical of Mahavamsa when he fled Raja Rata with his retinue and consort to Ruhunu Rata and founded this epic kingdom of Mahagama.
King Mahanaga of the 3rd century BC founded the kingdom of Mahagama which is supposed to be North East of modern Tissamaharama on the left bank of the Kirindi Oya. King Mahanaga being a refugee from Raja Rata where the birth of the tanks took place, had enough experience in the construction of tanks. Mahanaga as a prince and a sub-king while in Raja Rata, had supervised construction work on the tank called Taraccha (Valas wewa), where this mango tragedy had taken place.
When talking of Tissamaharama, my memory goes to back the latter part of 1970. We as schoolboys preferred to travel with our parents. When my mother embarked on a pilgrimage (Vandanagamana), she used to take us on a pilgrimage to Kataragama. Having visited many temples nestled on either side of the Galle road, our stop was Tissamaharama. While elders prepared dinner in the kitchen, we used to visit the massive Dagaba little distance away from our rest.
Hydraulic civilisation
King Mahanaga after establishing his capital at Mahagama, close to Tissamaharama, introduced the ancient hydraulic civilisation of building tanks as he had amassed irrigation engineering skills, while supervising construction work on tanks in Raja Rata. Soon after his assumption of the kingship of Ruhuna Rata/Rohana, he built a tank called Tissa-vapi which was partly filled with the waters of the Kirindi Oya. It flowed past the ancient capital of Mahagama.
Mahagama's next feat of irrigation engineering came when he built a stone anicut across Kiridi Oya relics of which are now submerged. But when the Kirindi Oya runs dry, a few stones of the old stone anicut do surface.
This tank called Tissa Wewa in Tissamaharama was later restored in greater dimensions by King Kavantissa of the 2nd century BC and in the reign of King Illanga of the 1st century AD. The ancient concept of the tank, (Wewa) Dagaba, Keth Yaya (paddy field) are well portrayed in the length and breadth of Tissamaharama and beyond it.
It was the warrior but princely son of King Kavantissa and Queen Viharamahadevi, Dutugemunu who freed old Sri Lanka from the fetters of Damila rule in Rajarata (from King Elara of the 2nd century BC) and united Sri Lanka. The creamy white Tissamaharama Dagaba was originally called Naga Maha Vihara and its works are attributed to King Mahanaga of Mahagama.
Tissamaharama Vihara
In the chronicle of the Mahavamsa, it records that King Devanampiyatissa of the 3rd century BC of the Anuradhapura, constructed the Tissamaharama Vihara at Tissa. Later King Illnaga (93-1012 AD) is mentioned in chronicles as the one who had restored and carried out extensions to the Dagaba.
Another significant incident of religious importance that took place during the reign of King Mahanaga of Mahagama was when the frontal bone relic of the Buddha was brought to Sri Lanka. A merchant called Mahakala brought this frontal tooth relic of the Buddha and when Mahanaga heard of it, he brought it to Mahagama with all pomp and pageantry.
This frontal bone of the Buddha was said to have been enshrined in the Maha Naga Dagaba or Naga Maha Vihara originally built by King Mahanaga and presently known as Tissamaharama Vihara.
A vihara was built by King Yatalaya Tissa and it was aptly named Yatalaya Vihara. In recent years, it was restored by the Department of Archaeology. The striking feature of the Yatalaya Vihara lies in its parapet wall which has in the foreground, friezes of elephant heads as seen in the Ruwanveliseya Maha Dagaba in Anuradhapura.
Before approaching Yatalaya Vihara in Tissamaharama, there stands a column of upright monolithic pillars which take our minds back to the Lowa Mahapaya in Anuradhapura, popularly known as the Brazen Palace. These ruins of standing stone pillars, till recent years, were said to be the remains of a king's palace and an audience hall. On the evidence of the archaeological excavations conducted in a joint venture by the Department of Archaeology and the Commission for General and Comparative Study of the German Institute of Archaeology (KAVA), these upright stone pillars appear to be the remains of the Chapter House of the monastery.
William Orr, when he visited Tissamaharama in AD 1800, had said that its village was populated then by a mere number of 20 inhabitants. He had spoken of a Rest House at Tissa too. His account is worth recounting after two centuries. "A field of paddy ground containing thirty-five amunus, watered by the Kirindi Oya, when in cultivation, but having laid waste for those past seven years, in consequence of the desertion of the greater part of the inhabitants, whose motive for emigrating is ascribed to fear of wild beasts which infest this part of the country to an incredible degree and increase in number as that of the inhabitants."
Restoration of ancient tanks
Sir Henry Ward was one of the ablest Governors of British colonial times (1855 AD), who had the restoration of our ancient tanks in his heart. During his turner of office, investigations were pursued for the restoration of Tissa Wewa which said relegated to its ruinous state.
During the office of the Governor Sir Gregory, initial steps were taken to restore Tissa Wewa and the other network of ancient tanks such as those of Yodakandiya, Duratissa, Wirawila, Debara Wewa. These old irrigation works coming down from the earliest times of Ruhunu Rata, were duly restored by 1902.
King Mahanaga's other tanks which were built during his reign are Sitharawila, Yodawewa, Mahagama Wewa and Dura Tissa tanks. All these ancient tanks were restored by 1902 during British colonial times. Tissa Wewa restoration works started in 1871.
Besides the Tissamaharama Dagaba (originally called Mahanaga Dagaba), the other Dagabas in its vicinity are Yatalaya Dagaba (built by King Mahanaga of 3rd century BC), Menik Vihara and Sandagiri Dagaba. According to tradition, this Menik Dagaba was built by Prince Dutugemunu of the 2nd century BC. Of these, only Sadagiri Dagaba stands in its original ruins and restored in recent years by the Department of Archaeology. Some said that the Sadagiri Dagaba is older than the Tissamaharama Dagaba. In the course of its restoration works, the four Vahalkadas at its four entrances have been duly restored to their pristine state.
Vahalkada
The Vahalkada consists of stone railings or stone slabs. Its entrance is decorated by a Makara Thorana (balustrade). Its ancient Dagaba is restored and lies in its background. Its builder is attributed to King Kavantissa of Ruhunu Rata. Another tradition says that in ancient times of Ruhunu Rata, Tissamaharama was called Tihawa and that the kings did not live permanently at Tissamaharama. But they had their capital and residence at Mahagama, about 6 kilometres from Kirinda.
Today, we find Tissamaharama teeming with a big farming and agricultural population with a well-developed town with all modern facilities and the area studded with paddy fields. It is one of the bountiful rice bowls in Sri Lanka. Tissamaharama is a booming tourism area filled with tourists from home and abroad.