Sri Lanka Tourism confident of 1.55 m visitors for 2023 – By Charumini de Silva
Source : ft
Revises original earnings target from $ 3 b to $ 2.7 b 
SLTDA Chief Priantha Fernando glorifies Sri Lanka's journey to recovery
Asserts SL stands out amid challenges unmatched by regional counterparts
Says visa-free for select countries will make a positive impact on industry 
Renews call for a comprehensive open skies aviation policy to realise 5m arrivals goal by 2029
SLTPB gears up for short-term campaign kicking off from China on 15 Nov.
Promotion Bureau Chief Chalaka Gajabahu outlines a strategic, phased approach, tailored to booking patterns of key markets
Affirms global campaign will kick off in February 2024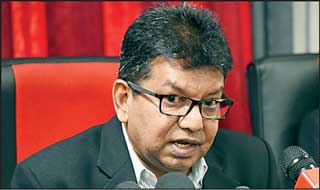 SLTDA Chairman Priantha Fernando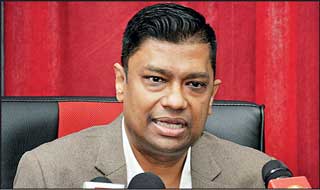 SLTPB Chairman Chalaka Gajabahu
Sri Lanka Tourism yesterday expressed optimism to welcome 1.55 million tourists and generate $ 2.7 billion in revenue by the end of the year whilst setting its sights on increasing arrivals to 5 million and earning an impressive $ 21.6 billion within seven years.
Although the earnings target is slightly below the original target of $ 3 billion, the forecast reflects a commendable turnaround for the industry that has navigated through a series of challenges over the past three years. 
Pix by Lasantha Kumara
Sri Lanka Tourism Development Authority (SLTDA) Chairman Priantha Fernando glorified the sector's recovery, noting that the industry is well within the reach of attracting another 450,000 tourists, with a year-to-date figure is over 1.1 million tourists already. 
 "Sri Lanka's journey to recovery stands out, as it weathered significant political and economic crises, an experience unmatched by our regional counterparts," he told journalists yesterday. 
Fernando also said the provision of visa-free facilities to selected seven countries can have a positive impact on the industry.
"It facilitates an easier entry for tourists and potentially leading to an increase in numbers from the top generating markets like India, Russia and China. The return on investment (ROI) of these increased visitors is always greater than the lost revenue in visa, as the average spending of a tourist within 8-10 days can have a ripple effect on the local economy via accommodation, dining, transport and other related activities. This can also boost the destination's image as an attractive tourist destination which could lead to positive word-of-mouth tourism promotion," he explained.
He acknowledged the slight slowdown in arrivals from the single biggest market, India, due to the ongoing Cricket World Cup and Chinese influx dropping below their original forecast. However, the SLTDA Chief said they were hopeful of substantial visitor turnaround with multiple charter flights commencing operations, catering to winter holidays till March.
Fernando also renewed his call for a comprehensive open skies aviation policy, stressing the critical role of air connectivity in propelling the tourism industry forward. 
"It is important that we have a well-functioning aviation policy in realising the country's ambitious goal of attracting 5 million tourists by 2029. The harmonisation of aviation and tourism is paramount for an open skies policy," he said.
He criticised the decades-old aviation policy, which primarily protected the national carrier and hindered Sri Lanka from fully capitalising on potential tourism markets. 
Fernando emphasised the potential for heightened demand in specific markets, which remains untapped due to capacity constraints on direct flights into Sri Lanka. "While some generating point's exhibit impressive load factors of 85-90%, these figures drop significantly upon arrival in Colombo to 45-50%. They distribute loads en route, particularly to the Middle East and intermediary points," he said. 
He underscored the dwindling number of direct flights from Europe into Sri Lanka and identified Australia and Japan as emerging markets with untapped potential for direct tourist traffic.
Sri Lanka Tourism Promotion Bureau Chairman Chalaka Gajabahu said that it is set to roll out the short-term marketing blitz on 15 November with China as the initial market.
The two-month campaign is focused on addressing the negative perceptions surrounding the destination, with the tagline "Sri Lanka is ready to check-in." 
He explained that the immediate push aims to counter negative publicity and to create awareness that Sri Lanka is ready to welcome the world and promote the country's diverse attractions. 
Gajabahu outlined the campaign will be rolled out through a strategic, phased approach tailored to the booking patterns of key markets. 
"The aim is to maximise the impact to ensure gradual and structured expansion of reach," he added.
He also said the global campaign will debut in February 2024 targeting nine key markets. These include India, Russia, China, UK, Germany, France, Australia, Middle East, Scandinavia, Japan and the Republic of Korea.
 "This marks the first global campaign for Sri Lanka Tourism in 16 years. Previous efforts lacked a strategic foundation and this time, the campaign is derived after in-depth global research," he added.
He reiterated that the strategic allocation of resources and focus on selected markets does not mean neglecting others. "We will be putting our main marketing budget on these specific markets over the next 18 months," he explained.
Gajabahu also said that they intend to participate in more trade fairs from next year onwards, whilst noting that all are set to participate at the World Travel Mart (WTM) in London this month and CITM in China next month.